Hello! I hope you are all having a great winter. It's still a completely frozen wasteland here in the Twin Cities. However, cold weather is not without its beauty.
As it turns out, I actually wound up finding time (and motivation) to update this website. The most notable update is the addition of links to my papers, reports, & presentations. These are the same as those on my academic website. However, they have been posted here in order to better circulate them to the public.
I have been programming quite a bit lately. Mainly for my research using OpenGL, OpenMP, and SSE/SIMD. I wound up writing a ray tracer for a class (CSCI 5107) a few months ago. It's amazing how beautiful some of the pictures you can make are. The below for example: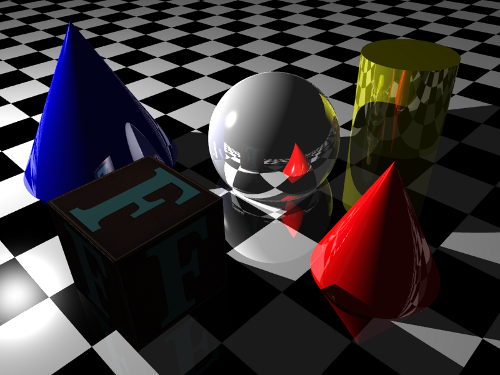 It really looks like it belongs on the cover of a textbook, doesn't it? If you would like to use this image, by all means feel free (in fact, I could even e-mail you a much higher resolution). My only request is that you link to my website or list me in your references if you use this image.
This ray tracer is actually quite beautiful. It's fully interactive in the sense that you can move the geometry around with the mouse, apply textures with an interface, and then render directly overtop of what OpenGL shows. It took a long time to write, but it was worth it.
Anyway, enjoy the updates to the site!